The 2 day event called BIGAS Hackathon held at UP Los Baños by IRRI and Smart has already concluded. Philrobotics would like to congratulate the winners of this years Hackathon. You guys are great!
Six days ago, Philrobotics Vice Chairman Martin Miranda heard about the event posted here
BIGAS Hackathon is a two-day developer event and hackathon hosted by the International Rice Research Institute (IRRI) and Smart Communications, Inc.(Smart) and powered by SMART Developer Network (SMART DevNet), the developer community for Smart's technology platform. We're inviting existing and aspiring developers to create a web and/or mobile app that can be used to further enhance the impact of IRRI technologies especially in their delivery to farmers.

We're looking for web and mobile apps which could help solve some of IRRI's toughest problems, innovative solutions in many aspects of rice research, ranging from complex computational problems to the creative use of games and social networking:

·      Improving the collection and study of research data

·      Providing information and/or technologies to farmers or extension workers

·      Indexing library and other institute data

·      Improving institute processes and procedures

·      Storing survey data better, or speeding up survey data processing

·      Designing a digital moisture meter etc.

BIGAS Hackathon is open to all developers especially those based in Laguna and nearby cities and provinces. This is a FREE event, no charge for admission, but registration is required. Transportation (bus from Makati to IRRI), food and accomodation will be provided for FREE for registered participants only.
since then, Philrobotics members restlessly worked on exchanging ideas. Originally, we came up with 3 ideas for the 3 groups who will attend the event but last minute change in schedules also changed the game plan. It still turned out successfully as the Philrobotics-A bagged the Most Innovative/Special Jury Award for Envilog; a stand-alone temperature and humidity sensor with real-time GSM-based data sending, offline data collection, and Web-based visualization.
Have a few giggle while they presented their creation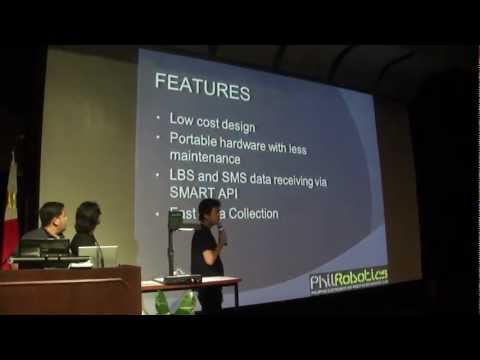 Here is a video of the awarding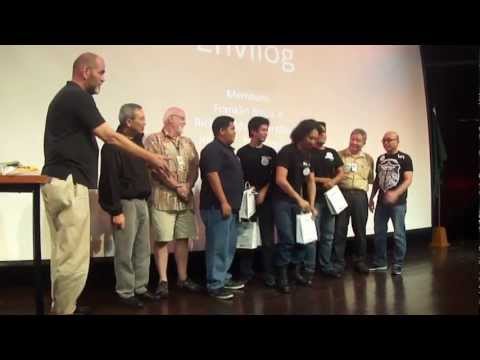 During a 2-day event (10-11 November 2012), the International Rice Research Institute (IRRI; http://irri.org) and wireless services provider Smart Communications, Inc. (Smart) called on all mobile developers to create and pitch Web and/or mobile applications that could be the next big tech push for rice farming.

In celebration of National Rice Awareness Month, IRRI and Smart through its developer community program Smart Developer Network (Smart DevNet;http://smartdevnet.wordpress.com/2012/11/11/and-the-winners-of-the-first-ever…) staged the "BIGAS Hackathon", which was a developer event that aimed to churn out apps that can further enhance the impact of rice production technologies.

The winners are:

* Best Game App: Araro (http://araro.karaniwan.org). Text-based simulation game based on RiceGrow by Bryan Bibat and Alvin Edward Chan.

* Best Research Data Collection App: ISWater. An automatic data gathering of a soil's water level using sensors & notify farmers/researchers via mobile app. Developed by Arvin Orubia, Michelle Aldave, Drexie de Leon and Cherryl Opon (Team Love Team).

* Best Farmer InfoTechnology App: Binhi. Rice Variety Picker by Joan Antonette Bautista, Jason-Bourne Escolano Manzala, John Louis Perez, Raymond Balingit (Team Libra).

* Most Innovative App/Special Jury Award: Envilog. This is a stand-alone temperature and humidity sensor with real-time GSM-based data sending, offline data collection, and Web-based visualization. Developed by Franklin Binos II, Richard Myrick Arellaga, Johnaray Dimaunahan, and Wyne Dell Manuel (Team PhilRobotics-A). IRRI will hoste this team over the weekend so they can create the actual app!

Robert Zeigler, IRRI director general, gives closing comments.
We would also congratulate our other Philrobotics team, making it to the event is already an achievement on its own. We hope to see more of this kind of event in the future.
Thanks IRRI and SMART!